I Love Free Software Day 2022 - Games Event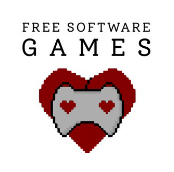 To say "Thank you" to all contributors to Free Software, the Free Software Foundation Europe organises and celebrates the "I Love Free Software Day". A day full of positive, creative and lovely messages directed to the whole Free Software community, celebrated on the 14th of February every year.

For the I Love Free Software Day 2022, we are planning something special and fun, with a focus on Free Software games. We are organising an event dedicated to these games. We will have the participation of three experts in Free Software games, games engines and Game Jams. They will share their experiences, and will immerse us in the Free Software games world. For the second part of our event, we invite you to play some fun Free Software games with us. We will start with Verloren and afterwards we will play Armagetron Advanced.
Informação do evento
Data: 14 de fevereiro de 2022 das 17:00 às 19:00
Website: https://registration.fsfe.org/ilovefs
Local: Online